History of Buran Benjarong.
Dad was born in Bangkok and Mom was born in Suphanburi, After married. They moved to Petchaboon and started their farming career from there on. They also had taken some sideline job as tailors during free season from work in the field. Since they have 5 kids (of us) therefore income from what they were doing not sufficient to feed their small kids and run our family.
Until one day, we grow up. Nothing improved much for long time, the couple had decided to escape from an agriculture career and looked for a better future. In 1982 they move their family to Nongkam district in Bangkok . Nothing much to do at that time, Our relative advised them to start with vegetable farming in this new home again, but unfortunately only first year their new farm was flooded. They lose everything they got. Not even place to sleep. They had to stay temporally in our relative house and everyone in the family had to look for a job just to get some money to feed our family.
After 3 month, Flooded stopped and they were able to resume vegetable farming again. No financial improvement in our family. Not long after that they moved our family to Krathumbaen district in Samusakhon province and resume their farming until one day they realize that farming will not make them become better than what they are and since we are also grown up. Some changes happening, two of us start working in the White&blue hand painted porcelain factory (willowware). One worked in the white porcelain manufacturer. One worked in gem factory and the last one was too young to work therefore he was continuing his study in the school.
| | |
| --- | --- |
| | Two of us were working in the willowware factory for 10 years. We gave up and finally had discussed that we should be able to have our own hand painted porcelain business. Not so long after that we decided to quit from the job with about 10,000 baht of money in hand. We then start making Benjarong hand painted porcelain instead of willowware and have a difference style from whatever available in the market. First start was really difficult and facing many problems. One of the reasons is not enough money to support the business. Every piece of product had to be credited. The product was Benjarong hand painted porcelain made similar to the olden age Benjarong product. It was not really successful in the business viewpoint. Finally style of product then changed to three dimensional portions of paint laid over thin gilt line background. . We received a really well feedback from the market business. We started with one staff in our factory and increased to 40 staffs including another two brothers who quit from the factory to help us. The youngest one also included in the business after graduated bachelor degree. |
Today we can not produce sufficient quantity of product to supply as per demand from the market. We are trying to increase the quantity but it is also difficult since this kind of job require an experienced and professional artist to produce it. Long time practicing caused many of them to give up.
Ten years that five of us help to make our Buran benjarong factory come true. We are quite successful at one level. Since we are still young, a lot of challenges are waiting for us to make it come true.
The conspicuous style of three dimensional portions of benjarong paint from Buran Benjarong
It is a homework product and difficult to find, Five brother and sister work together in the same place and resulted in a serious quality control, The conspicuous style in our product are color, line and shape.
Some of colors have special mixing ratio that given an individual characteristic color of Buran Benjarong. No one can copy this color therefore our product is difference and special.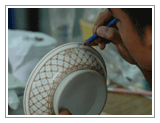 Design on our product are new design and not same as the other existing product in the market. It is still having Thai style handiwork but also can be adopted/changed as per customer requirement.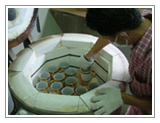 There are many selections of product shape are available for customer. Some shapes of white porcelain are very difficult to paint but it will not be our consideration to change or increase any price for that particular piece. White porcelain must not have any defect. Benjarong product is highly prized itself therefore the best quality of white porcelain is selected for production.
Another conspicuous style is we are very serious about our product and how to make it. Start form white porcelain selection. Line drawing and carefully check for mistake, again carefully check after paint application. Paint thickness, color, application area, thorough cleaning and checking before firing. Check and clean after firing. There are five steps of quality control that make Buran Benjarong special and the best quality ever.